Cathie Smith LoCicero
cathie@cathiesmithinsurance.com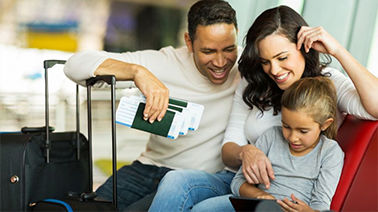 After purchasing VUMI Travel VIP, you can download policy documents and your Travel VIP card from the MyVUMI mobile application, available on Google Play™ Store or the Apple® App Store®


Review general information.

Extend coverage.

Renew your annual policy.

Download documents.

Submit a claim.
CONTACT US
For 24-hour emergency services, non-medical assistance, eligibility, cancellation, general assistance, notifications, claims and medical pre-authorizations, call +1-416-744-3870 or +1-888-809-3493, or email travelvip@vumigroup.com
VUMI's Travel VIP gives you the peace of mind that you will be covered wherever you go, offering the following options:
SINGLE TRIP
Choose the days you are traveling and get full medical coverage for one single round trip.

Easily extend your coverage as many times as needed up to a maximum of 365 consecutive days.
ANNUAL TRIP
Get full medical coverage for all your travels within a year, with a maximum of 30, 45 or 90 consecutive days on the same trip, according to the selected option.

Easily extend your coverage if one of your trips exceeds 30, 45 or 90 consecutive days for an additional daily premium.
RIDERS
Customize your coverage to add extra protection with one or both of the following optional riders:
NON-MEDICAL
Get additional, non-medical benefits when traveling abroad, including:
Baggage delay, theft, loss or damage.

Travel delay or missed flight connection.

Passport or cash theft.

Personal liability: bodily injury and property damage.

Accidental death and dismemberment.

Hospital daily benefit.

Legal assistance.
TRIP CANCELLATION
Get coverage in case you are unable to travel due to acute illnesses, injuries or death.
VUMI VIP SERVICE
All of our plans come with the distinguished VUMI VIP service, which includes:
24/7 emergency assistance.

Comprehensive travel insurance coverage, from minor treatments to repatriation.

Free choice of doctors and hospitals anywhere in the world.

Free coverage for children under 2 years old.

Coverage for people up to 79 years old.

Emergency dental coverage.

Return ticket home in case you miss your flight due to illness.

Compassionate emergency visit to an insured.

Second medical opinion in annual trip plan.
GET STARTED NOW
Purchasing Travel VIP is quick and easy:
1. QUOTE
Quote the plan of your choice and customize your coverage with any of the optional riders.
2. APPLY AND PAY
Fill out the online application, which will take just a few minutes.
Submit your payment through our secure online payment system.
3. PRINT DOCUMENTS
You're all set! Print your policy documents, including your ID card.